Free Trial Program
Download our professional label software and try it for free before purchasing. It provides a complete barcode label design and printing solution to users in retail, logistics, chemical, automotive and other industries.
Barcode Label Designer
Version: 7.6.3
Platform: Windows XP / Vista / Windows 7 / Windows 8 / Windows 10
File Size: 28M

CodeX Barcode Label Designer requires the Microsoft .NET Framework 4.0 to be installed on your computer. However, upon installation, it will detect if a compatible version of the .NET Framework is installed or not. If not, it will install it for you with your permission.
We promise that all software downloaded from the official website will not contain any virus and spyware. BaiqiSoft follows a strict privacy policy and no information is collected from the user via this software.
If you have any problems with downloading or other questions please contact us.
Awards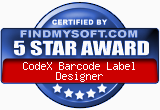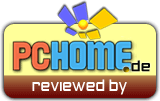 Testimonials
I am making bar code labels for packages. I really like your program, it makes my job easier.
- R. J. Aubern
I went through a lot of label design software over the last week, this one is the most affordable and versatile. Keep up the excellent work!
- Jeremy Shields